BECOME THE EXPERT -
WITH A WEALTH OF PREGNANCY AND POSTPARTUM KNOWLEDGE
PCES 2.0 - The groundbreaking Pregnancy and Postpartum Corrective Exercise Specialist Certification has been completely reimagined with over 200 research studies and the all-new workbook shipped right to your door.
Registration opens in January 2022.

Join the Pre-Sale List for updates and special course pricing.
FREE Pelvic Floor and Diastasis Course
This 6-part course offers key takeaways on breathing, pelvic floor strengthening and diastasis recovery. Sign up and start learning today!
The PCES Certification helps you grow
Empowers you with full confidence in helping your pregnant and postpartum clients

Demystifies the common and not-so-common core and pelvic floor issues associated with child-birth, like diastasis recti

Teaches you how to help women of any age get into high intensity exercise while tackling issues that arise, like leaking and pelvic organ prolapse

Equips you with skills and knowledge on the whole body system you can apply immediately
What does this program offer Personal Trainers, Pilates Instructors, Yoga Teachers and other Wellness Professionals?
It bridges the gap between training and rehab. This course will give you a deeper understanding behind the common postpartum dysfunctions and the best corrective exercises to help. You will gain confidence in your programming that you are making the best choices in the face of difficult issues.
On top of this, you'll take away hundreds of exercise progressions, regressions, and variations to help fit any client at any level. This course is not just theory, it's also a great deal of practical application. You will become a gatekeeper of knowledge and a trusted advisor and resource for your clients, knowing where and when to refer them to maximize recovery, while still working to improve things on your end.
What does this program offer Physical Therapists, Chiropractors, and other healthcare professionals?
You will learn the best corrective exercises that go way beyond clams, bridges and planks to use for improving alignment, strength and finding the source of the problem.
On top of that, you will gain a working knowledge of the small tweaks needed to make each individual exercise more effective. The significant number of case studies, progressions and regressions will leave you confident in your exercise prescription for any level client, from beginner to advanced athlete. The course brings a lot of different perspectives, many tools in the toolbox so to speak, so you'll get a wide range of approaches and develop a great appreciation for the big picture and whole body holistic approach.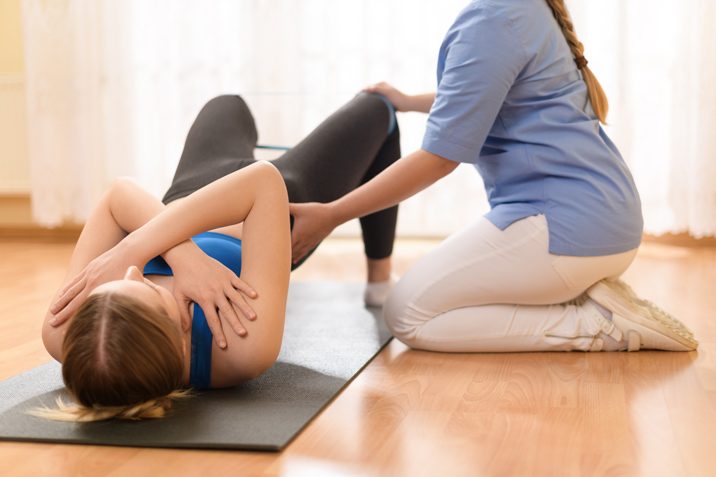 The PCES Certification helps you
Master the whole-body approach to women's health and fitness
What health and fitness professionals are saying:
"As a Physical Therapist and personal trainer, I can tell you that Sarah has created THE BEST training course for women. Hands down!"
Dr. Jill Zimmerman, DPT, CPT, Owner of Perfectly Fit
"I've taken several prenatal/postpartum focused courses in the past year, and the Postpartum Corrective Exercise Specialist course was by far the best! There is no comparison! Sarah is incredibly in-depth with this course, and I feel like I am by far a better trainer, and postpartum woman, because of this course!"
Gina Conley, CPT, Doula, Owner of MamasteFit
"I absolutely LOVE the PCES course. I cannot even describe how much I've taken out of it. Sarah is such an amazing, gifted and passionate teacher."
Barbara Handschin, Certified Pilates Instructor
"The PCES course is HANDS DOWN the best continuing education I have taken in my 15 years in the fitness industry. I legit cannot recommend a course more! The information is applicable to ALL clientele male or female, postpartum or not!"
Stacey Schaedler, CPT
"This course provides a wealth of information on post-partum recovery delivered in a very thoughtful and well-organized series of lectures. Dr. Sarah is thorough, engaging, funny, and her case studies and how-to videos are brilliant and clear. As a yoga therapist, I am especially thrilled with the emphasis on breathing as a primary tool for recovery."
Lisa Sack, Certified Yoga Therapist
Why focus on
women's health?
Women are not getting the pregnancy and postpartum care they deserve
or even the exercise advice they deserve heading into menopause.
Women often make up more than half of the normal clientele in PT clinics, gyms and studios.
But most educational programs do not even cover the basics of working with pregnant and postpartum women. Not to mention perimenopause and menopause when those hormonal changes can leave a woman's body more vulnerable to injury, much like the postpartum time period! It's no wonder so many women get prolapse when they go through menopause. They aren't exercising in a system that supports them. If they are taught how to manage pressure properly and with great technique, then many cases of prolapse could be prevented. This course isn't just for those that are pregnant or newly postpartum, it's women that want to support a lifetime of healthy exercise.
The PCES Certification vs
going back to school
Do you need to go back to school to learn more about women's health?
Going back to school is time-consuming, not to mention enormously expensive! Taking a key course, like the PCES course, will give you the confidence to start working with pregnant and postpartum women today. The goal of the PCES course is to sum up all the school, practical experience, and evidence-based research into an easy-to-understand course. Our graduates not only walk away with an understanding of the major issues that plague women but solutions on how to actually help them! All at a fraction of the cost of going back to school.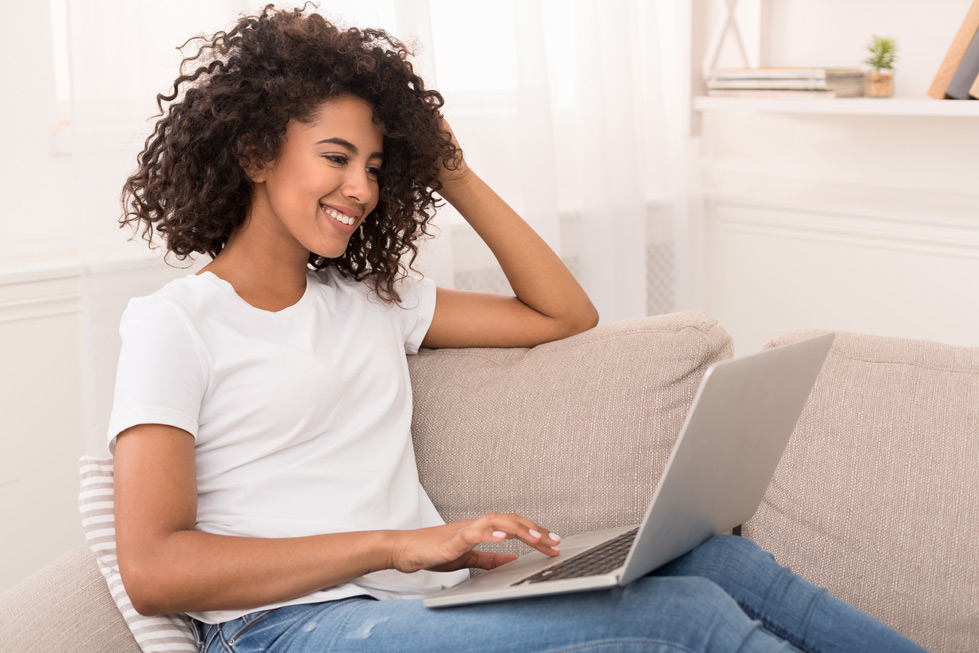 Access the course from your computer or download the app on your mobile device to access lessons and course materials anywhere.
After registering, you'll immediately receive access to the lectures, checklist, quick reference guide and course syllabus.

With each lesson, you'll be able to download the applicable research studies as well as PDF summaries.

The PCES Workbook will be mailed right to your door.

There are quizzes at the end of each section instead of a big test at the end to make applying the information easy.

Once you've completed all the sections, you'll receive your Certification.

You'll be able to look back on the material at any time. Most graduates find they reference the material often.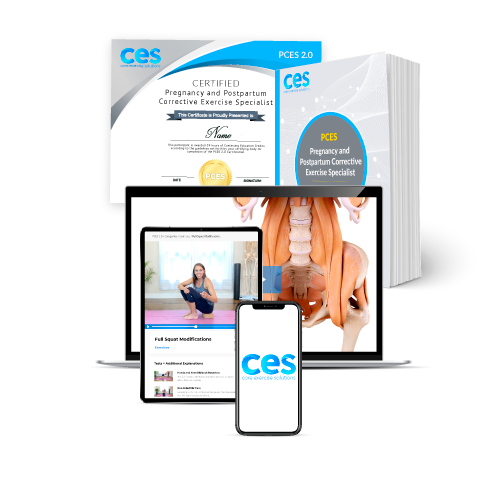 Join our community of Pregnancy and Postpartum Corrective Exercise Specialists.
Join our directory of PCES graduates and get found by local moms who need your pregnancy and postpartum recovery expertise.
Join us for a practical approach to the human body. We learn how the muscular systems function together and how movement issues might arise.
We answer questions like "How does the diaphragm, pelvic floor, core interact and how does this interaction affect the entire body?"
10 Movement Tests + Additional Explanations
Breathing is our foundation and it affects our entire body. In this section, we cover the importance of deep breathing, pressure, breathing trainers, rib flare, rib movement and rib mobility.
We answer questions like "What are the best exercises to get someone breathing correctly?"
6 Breathing Lecture Videos

11 Movement Tests + Additional Explanations
If breathing is our foundation, then alignment is our infrastructure. This section focuses on posture assessments, spinal mobility, high hinge point, core imbalances, pelvic angles and more.
We answer questions like "What are some simple cues to make effective posture changes happen fast?"
5 Movement Tests + Additional Explanations
What does the pelvic floor actually do and how does it do it? For a lot of us, the pelvic floor was not covered well in school and remains a mystery. This section leaves no stone unturned, covering hypotonic vs hypertonic pelvic floor muscles, prolapse, incontinence, connections to other parts of the body and advanced pelvic floor strategies.
We answer questions like "What are the best strategies for helping both urge and stress incontinence?"
14 Pelvic Floor Lecture Videos

11 Movement Tests + Additional Explanations

5 Strength Tests and Tips: Back to Running and Jumping
Section 5: Diastasis Recti
Diastasis Recti is both a local dysfunction within the abdominal wall and a whole-body issue. In this section, we cover the connection between diastasis and the pelvic floor, hernias, rib cage angle, posture improvements for diastasis, and how to check for one.
We answer questions like "Do you need different exercises to address a diastasis that's more severe above or below the belly button?"
6 Diastasis Recti Lecture Videos

7 Movement Tests + Additional Explanations

Taping for a Diastasis Video
Research shows pregnant women should exercise, but each pregnancy is different so there are no cut-and-dry safe or unsafe exercises. This section covers each trimester and the considerations needed for every type of situation.
We answer questions like "What guidelines and concerns should you take a look at for working with a new pregnant client?"
3 Pregnancy Lecture Videos

10 Movement Tests + Additional Explanations

4 Exercises + Case Studies
At this point in the course, we have covered many postpartum topics, but this section dives deeper into postpartum timelines and expectations. It also covers major concerns, safe exercises, screening and recovery.
We answer questions like "How do we start into general exercise and get someone back on a workout plan?"
3 Postpartum Lecture Videos

5 Progressive Postpartum Workouts

1 C-Section Scar Tissue Release Video
Section 8: SI Joint and Low Back
SI Joint pain and back pain are common complaints among pre- and postnatal women. This section looks at what causes these issues and how to address them.
We answer questions like "What are the best SI Joint stabilizing exercises?"
6 SI Joint and Low Back Lecture Videos

2 Movement Tests + Additional Explanations
The kinetic chain brings it all together. This section looks at cross-body activation, myofascial slings, planes of movement, stretching, foam rolling and how the kinetic chain interacts with pelvic floor function.
We answer questions like "What are the best horizontal plane exercises for the hip and pelvic floor and why are they important?"
5 Kinetic Chain Lecture Videos

7 Exercises and Additional Explanations
Section 10: Bonus Material
The bonus section is packed with expert interviews covering a wide range of topics including nutrition, pregnancy considerations, yoga, delivery prep and motivation. This section also features release work and extensive birth prep lessons from Annatina Shorno-Pitsch, PT.
3 Abdominal Massage Videos with Annatina Shoorno-Pitsch, PT

30 Birth Prep Videos with Annatina Shorno-Pitsch, PT.

10 Yoga Consideration Videos with Kathryn Ambrogne, LPTA, ACE CPT

17 Pilates Consideration Videos with Allison Marsh, NCPT
Every exercise in the course is compiled in the Exercise Library for quick reference. Each exercise includes a video tutorial and a printed copy in the accompanying PCES workbook. You learn when and why to use specific exercises, helpful cueing and common mistakes.
Over 75 Exercises and Explanations
Highlights important points from the lecture videos

Exercise library with pictures and breakdowns

Detailed index for quickly looking up any topic
Hear from more
PCES Grads:
Graduates of the PCES Certification are helping women all around the world.
"This course was absolutely fantastic for my first online course. It provides videos, evidence-based techniques, thought processes and case studies. I've learned so much about the post-partum population that was never covered in PT school. I would highly recommend this course to fellow colleagues."
Dr. Sarah Coulombe PT, DPT, CSCS, NSCA-CPT
"The majority of my clients are amazing mamas who want to feel valued, respected, and treated as individuals. This course has allowed me to confidently provide safe and effective workouts that help these wonderful women feel and move better in their daily lives. Thank you!"
Luke Robinson, CPT, Owner of Wolfpack Fitness
"Information in this course is applicable to any professional in the fitness industry. Exercises and concepts can be applied to a wide variety of clients. Sarah's enthusiasm and skillful ability to break down concepts make this course entertaining and useful. Unlike many courses, I apply concepts from this course on a daily basis."
Dr. Laura Nice, DPT
"Sarah's expertise and passion, combined with her talent for teaching made this course one of the best I've ever taken. With so much great information presented in such a clear way, I cannot recommend her more highly!"
Nalini Kokatay, CMT
Meet your women's health expert:
Dr. Sarah has rehabbed thousands of women with pelvic floor issues, diastasis recti, SI joint dysfunction and low back pain. With a doctorate and over 19 years of experience in the health and wellness field, she has both the extensive training and experience to bring you a cutting-edge, evidence-based course.
As a mom of 2, she knows personally what it takes to fully recover from having a baby. Her passion lies in helping women be stronger after baby. She currently works with women all over the world and feels strongly that becoming a mother should not rob women of their ability to live life to the fullest.
Along with being a wife and mom, she is also an adventure sports athlete and enjoys rock climbing, kiteboarding and any sport that tests her physical and mental capabilities.
Dr. Sarah Ellis Duvall, PT, DPT, CPT, CNC
Each module features top expert interviews on a wide range of topics from exercise during pregnancy to sex therapy.
Kelly Coffey is an expert on overcoming self-sabotage and getting results. Many postpartum women struggle with body image, weight loss and maintaining a positive body mindset. Kelly wants women to learn how to connect to life, stop the cycle of self-sabotage and truly learn how to love themselves.
Owner of Strong Coffey- http://www.strongcoffey.com/
What is the origin of self-sabotage, especially around food?
What are some common habits that make you feel powerless to change?
How do you break the cycle of self-sabotage once and for all?
How do you regain control over your life?
Dr. Lisa Lewis, EdD, CADC-II, Licensed Psychologist
Dr. Lisa Lewis is a licensed psychologist with a passion for wellness and fitness. She earned her doctorate in counseling psychology with a specialization in sport psychology at Boston University, and her doctoral research focused on exercise motivation. Lisa is also a certified drug and alcohol counselor and has taught undergraduate courses as an adjunct professor at Salem University, Wheelock College, and Northeastern University in courses including exercise psychology, sport psychology, developmental psychology, and abnormal psychology. Lisa has worked in college mental health, community mental health, and substance abuse treatment centers, and she currently provides consultation and psychotherapy services at her private practice in Brookline, MA.
Lisa works with athletes and athletically-minded clients who come to her practice in hopes of achieving a personal goal or enhancing motivation to pursue goals; she also provides workshops and consultations for personal trainers and strength coaches, both for their own professional development, and to enhance their communication and motivational skills with their own clientele.
How do you maintain professional boundaries?
What do healthy boundaries look like?
How do we stay passionate about work?
How do we help cultivate intrinsic motivation in our clients?
Marika Hart, PT
Marika Hart has over 16 years of experience as a physiotherapist. Following the completion of her master's degree in Manual Therapy from the University of Western Australia in 2006, she developed an interest in women's health, and in particular the effect of exercise on health during the pre- and postnatal periods. This interest led her to create a successful business in Perth which has helped hundreds of women feel strong, knowledgeable and empowered throughout their pregnancy and beyond. Her passion to spread this information inspired Marika to create Heraphere, a fully online platform dedicated to providing high-quality information related to all things pregnancy!
herasphere.net
Common pregnancy complaints and tips for helping with them
Importance of exercise during pregnancy
Mental prep for birth
C- section prep list- preparing for labor
Hormone changes during pregnancy and how those affect the body
Pluses and minuses for different labor positions
Perineal massage- do you recommend it?
Tools for labor to help prevent tearing and some of the education
Dr. Seth Oberst, DPT, CSCS
Dr. Seth Oberst is board-certified in Sports Physical Therapy and is a Certified Strength and Conditioning Specialist. He has also done extensive training with the Postural Restoration Institute as well as in neuroscience and mindfulness. He now works with a diverse set of clients, many of whom are stuck – mentally and physically – and suffering from chronic tension and pain. Dr. Oberst brings a unique approach to treatment being neurocentric focused – meaning that the nervous system is the main regulator of not only our thoughts and movements but even our physiology. He is fascinated by the brain and the nervous system and much of his work involves reconnecting the body and mind.
Owner of Dr. Seth Oberst.com in Atlanta, GA: http://www.sethoberst.com/
What impact does breathing have on our nervous system and healing?
How do stress and trauma affect perceptions? Why is this an especially important concept for women with a history of traumatic births?
How do your thoughts and beliefs about your body (self-image) and your abilities (resilience) affect your capacity for improvement?
What tips can you offer to help clients with stress management to facilitate forward progress?
Rivka Sidorsky and Associates, LCSW-C, CST
AASECT Certified Sex Therapist Rivka Sidorsky speaks widely on improving intimacy and female function and dysfunction. She was personally mentored and trained in sexual dysfunction and sex therapy from internationally renowned Dr. Laura Berman, Oprah's relationship, and sex expert, at the Berman Center in Chicago.
Practice Owner of Rivka Sidorsky and Associates in Maryland: http://www.rivkasidorsky.com/
How to successfully transition to having sex the first few times after having a baby?
What are some good coping strategies to help women move past a traumatic childbirth experience?
What sexual intimacy changes can a woman expect after childbirth?
How to keep up a sex life with a baby?
How can I get in the mood to have sex when I'm so tired?
What are some physical and psychological concerns that may hinder sex?
Tips for when it doesn't feel like it used to?
Dr. Blair Green, PT, DPT, OCS, PHC
Dr. Blair Green began her career in orthopedic physical therapy and learned quickly that the body needs to be treated as a whole, not the sum of its parts. After spending several years addressing pre-natal and post-partum musculoskeletal health, Blair developed a passion for helping those with all types of pelvic floor dysfunction. She has not abandoned her interest in orthopedics. In fact, she incorporates a holistic mindset while working with patients, integrating pelvic health into whole-body treatment.
Owner of Catalyst Physical Therapy in Atlanta, GA: https://www.catalystga.com/
When should you refer out to a pelvic floor PT?
Importance of internal work? What does internal work entail?
Can you overcome muscle tears and birth trauma?
Why is a whole-body holistic approach important for pelvic floor healing?
Dr. Annemarie Lepe, PT, DPT, WCS
Dr. Annemarie Lepe is a women's health and pelvic floor specialist. She is passionate about educating both patients and providers about evidence-based treatment and prevention of pelvic floor dysfunction. Her favorite part of her work is empowering women to take control of their pelvic health and wellness, and seeing them share that knowledge in their communities.
Clinic Director at Miricle Physical Therapy in San Francisco, CA: http://www.miraclept.com/
What's the research behind hypopressives and do they have a role in pelvic floor treatment?
Let's talk about lubricants, different kinds, and why you might need them in the postpartum period?
What impact does breastfeeding and postpartum hormones have on our ligaments and what caution should we use when returning to running?
Do you recommend abdominal binding postpartum?
Antony Lo, PT, B. App. Sc.
Antony has been studying and working in Physiotherapy since 1993. During this time, he has earned his degree in Physiotherapy, a Masters in Physiotherapy and took part in the Musculoskeletal Physiotherapy Specialisation training program – the highest form of training a physiotherapist can take in Australia. He specializes in everything from the SI Joint, pelvic floor and musculoskeletal pain to optimizing your CrossFit performance.
Owner of http://physiodetective.com/
Can you talk me through your favorite bracing and lifting for diastasis and the pelvic floor?
What's your thought process for getting someone back to CrossFit that's leaking? What are some of the major things you check for or think about?
Let's talk a little bit about your interaction with Greg Lehman on the Thoracic Ring Theory. Where are your thoughts on it now?
What're your thoughts on hypopressives?
Any advice for general ways of thinking to become at helping people?
Isabel Spradlin, BA, LMT, NCBTMB
Isabel Spradlin is an LMT and abdominal adhesion specialist in Portland, OR. She specializes in working with and educating people about manual treatment (massage) for abdominal pain and dysfunction – especially when it is adhesion related. Isabel has been in full-time practice for over decade. In addition to working with post-surgical clients, she also supports postpartum moms in recovering from giving birth, whether vaginal or cesarian. Checkout her website for hands-on and how-to information to support abdominal health.
What are abdominal adhesions?
How does working on abdominal adhesions help postpartum moms?
What is one of the biggest abdominal challenges you see moms facing after giving birth?
What exactly can manual therapy or massage do to help with postpartum abdominal symptoms?
How can the practitioners in this program directly support moms with the hands-on side of things?
Dr. Sherri Jacobs, ND, CNS specializes in health coaching, clinical nutrition, integrative wellness plans, nutrition-based lab studies and personalized nutrition recommendations based on genetics (nutrigenomics). She has extensive experience in the areas of detoxification, women's health, GI health, hormone management and the role of "environment" on the expression of our genes (epigenetics).

Owner of HealthECoaching in Charleston, SC – www.HealthECoaching.com
How can we best support fascial healing?
How does genetics play a role in postpartum depression and recovery in general?
Tell us more about directing care based on genes because that's pretty cool.
What tips to have for women to survive the stress of the postpartum period?
How can they fuel their bodies for the most positive outcome?
What supplement brands do you recommend and what should we steer clear from completely?
Do you have any general across the board recommendations for supplements?
Dr. Erin Kinney, ND
Dr. Erin Kinney is a wealth of knowledge on adrenal fatigue, hormones, fascial healing and stress reduction. Using personalized diet, lifestyle modification, homeopathic remedies, and herbal medicine, she is able to balance and boost the body's natural regenerative capacity and help her patients overcome disease.
Owner of KinnCare Naturopathic in Annapolis, MD: http://www.kinncare.com/
What are the different types of inflammation sources, how do they occur and what can we do to help them?
What is homeopathy, how it's used and what are your favorite remedies for postpartum care?
How can we promote better fascial healing to help with diastasis and prolapse?
How can you recognize adrenal fatigue in clients and what steps can you take to help them?
Dr. Lizzie Sobel, DC
Dr. Lizzie Sobel is the owner of Wholesome Healing Chiropractic, located in Boston and Walpole, Massachusetts. She has been practicing since 2012.
Lizzie specializes in treating pregnant and postpartum women and children of all ages with gentle, holistic techniques. She uses a low force style of adjusting with no cracking, popping, or twisting. Lizzie helps her clients find balance in their body, reduce pain, relax, and recenter.
Lizzie studied physical anthropology and sculpture at Skidmore College before earning her Doctor of Chiropractic degree from New York Chiropractic College in Seneca Falls, NY. She studied with the International Chiropractic Pediatric Association (ICPA) after graduation to gain the knowledge and technique needed to work with pregnant women and children. Lizzie is certified in the Webster Technique by the ICPA. She is also a certified childbirth educator. When she is not in the office, Lizzie loves practicing yoga, hiking, cooking, and going on adventures with her family. She currently lives in Norwood, MA with her husband Paul, daughter Rosalind, and two cats.
http://www.wholesomehealingchiro.com
How do you assess for round ligament pain?
What's your go-to treatment for ligament pain during pregnancy?
What lifestyle or exercise modifications do you recommend?
What other recommendations do you have for a pain-free healthy pregnancy?
Muriel is the Senior Educator and Managing Director of art of motion academy® Australia. Her love for movement brought her from the Swiss Alps to London where she completed a Contemporary Dance Diploma at the Laban Centre. This is where she experienced firsthand the great benefits of Pilates and developed a strong interest in holistic movement training and injury prevention, two topics very close to home. Meeting Karin Gurtner, the founder and principal educator of art of motion training in movement, opened a whole new world of possibilities and gave her a more contemporary science-based understanding of the body's interconnectedness. art of motion's holistic and up to date approach to functional exercise and exercise sequencing was refreshing for Mumu, and a memorable turning point in her life and career.
Art of Motion: https://www.art-of-motion.com/en/
What major benefits do you see to incorporating Slings Myofascial training versus more common movement modalities?
How does Slings Myofascial Training promote tissue elasticity and responsiveness?
Why should everyone be versed in Slings Myofascial Training when building a comprehensive program?
The sequences taught have a clear intention and I love how this makes participants feel, reflect and sense the changes that occur (or not) in their body. What tips do you have for teachers to help facilitate that awareness in their students, especially those that are not sensing consciously yet?
What are some of the most common issues that you see when analyzing someone's gait?
Can you tell us more about the Slings Myofascial Training that art of motion offers?
Dani Hemmat, CPT
Dani Hemmat, former podcast host of Katy Says with Katy Bowman, is a Nutritious Movement™-Certified Restorative Exercise Specialist, NASM-CPT, NASM-FSN with prenatal/postpartum fitness certifications and diastasis rehabilitation training, is also a MELT Method® Hand & Foot Instructor, a Healthy Foot Practitioner, and a Lifetime Senior Fitness Provider who loves teaching and helping people in and around Boulder, Colorado and all over the world.
Owner of http://www.moveyourbodybetter.com/
Tell us a little about your journey with diastasis and fitness?

Your approach to treating the whole body for diastasis is something I believe in fully. What are some of the most interesting connections between a diastasis not healing and the rest of the body that you've seen when helping people?

What advice do you have for people trying to help others heal a diastasis?

How important do you think myofascial release is?

Can you talk through some of the benefits of myofascial release and how it plays into healing?

Tell us a little more on how much and what kind of movement you recommend for staying healthy
Dr. Mike T. Nelson, PhD
Dr. Mike T. Nelson CSCS has spent 20 years of his life learning how the human body works, specifically focusing on how to properly condition it to burn fat and become stronger, more flexible, and healthier. He has a PhD in Exercise Physiology from the University of Minnesota, a MS in Mechanical Engineering (biomechanics) from Michigan Tech and a BA in Natural Science. He's an instructor for Rocky Mountain and has published research in both physiology and engineering journals. He has completed ongoing education from Z-Health as a Master Trainer, National Strength and Conditioning Association as a CSCS, Postural Restoration Institute, Anatomy Trains, the Institute of Motion, Be Activated, and others. He's even been called in to share his techniques with top military agencies. In his free time, he enjoys spending time with his wife, lifting odd objects, and kiteboarding as much as possible.
Owner of www.miketnelson.com
What is HRV and why should anyone care?
Talk to me about what can happen for those living in a more sympathetic vs parasympathetic state?
How does hrv and ANS play into healing?
How do you determine someone's unique nervous system needs?
You mention having a broken dopamine system. Can you give us more info on this?
Can you give me an example of a neuro drill to help turn muscles off or on? One from Z health, PRI and RPR?
How do these drills work?
The Self Study option allows you to move through the course at your own pace. The Full Support option is semester-based and includes support from Dr. Sarah and her team through the Facebook group and live video Q&A sessions.
Access to all videos, assignments, case studies, exercises, additional reading and PDFs.

Earn CEU credit while you become an exercise expert on pregnancy, postpartum, pelvic floor and diastasis.

Complete PCES Workbook delivered to your door.

Lifetime access to the course to review the materials at any point in time.

Research studies included in downloads.

Each exercise comes with an additional instructional handout to email or print for clients.

Free access to new PCES course launches.
Registration opens in January 2022!
$1050 USD
Join the Pre-Sale list and save $250 off the regular course price. Payment plans are available starting at $95/month for 12 months or $270/month for 4 months.
PCES Course - Full Support
Everything from the Self Study option plus:

Access to the Shoulder Solutions course for free while in the group

Access to all the business building material while in the group

Group membership with other new students and grads

Ask questions in the group at anytime

Ability to post videos for personalized exercise critiques and troubleshooting in the group

Additional case studies and study reviews available only in the group

Get support from Sarah as well as other experts in our amazing team of professionals

Additional exercise demos, troubleshooting, and breakdowns
Registration opens in January 2022!
$1375 USD
Join the Pre-Sale list and save $250 off the regular course price. Payment plans are available starting at $348/month for 4 months.
100% Money Back Guarantee in the first 30 days.
See checkout for details. Email for more information.
Frequently Asked Questions
Can I put this course toward continuing education credits?
Yes! We are currently getting approval for online 2021 credit through as many certifying bodies as possible. We expect to have approval through all major certifying bodies very soon. Please check back for updates on CEU approval and email us if you have any questions. [email protected]
Approved:
BOC

- 34 Category A CEUs

ESSA

- 15 CPD Points

CIMSPA

- 10 CPD Points *must have a level 2 or 3 qualifications to gain CIMSPA CE credit with this course.

AOTA

- 34 Hours

NASM

- 1.9 CEUs

AFAA

- 15 CEUs

CanFitPro

- 4 CECs

CATA

-13.6 CEUs

NPCP (PMA)

- 34 CECs

PACE

- 30 Hours of Credit

Fitness Australia

- 15 CECs

REPs New Zealand

- 20 CPD Points

BCRPA

- 34 CECs

Alberta Chiropractors Association

- 34 CC Hours

Mississippi State Board of Chiropractic Examiners

- 12 Hours of CE if you sign up by before June 30th (per State Executive Order)

*Does not cover any CA Hours or Risk Management Hours

Minnesota Board of Chiropractic Examiners

- 34 Regular Units
Approved Physical Therapy States Include:
AR

- 34 Hours

CA

- 3.4 CEUs

FL

- 40 Hours

IL

- 34 ss CE hours

*Subject to self study limitations for IL license renewal

LA

- 34 Clinical Hours

MD-

34 Hours

MN

- 34 CE Hours

NJ- 34 CECs *NJ allows 10 Hours from distance learning, 20 Hours from live webinars
NM

- 34 Hours

NV

- 34 Clinical Hours

NY

- 40.8 CEUs

OH

- 34.75 Hours

OK

- 34 Hours Category B

TN

- 3.475 CEUs/ 34.75 contact hours of Class 1 Continuing Education

TX

- 34 CCUs

WV

- 34 Hours

Most PT states are approved through reciprocity. Please see below.
Approved through petition (quick, easy form):
ISSA
ACE
CSEP
ACSM
IFPA
NFPT
NETA
AFPTE
CCO

(Ontario Chiropractors)

DONA International
YogaAlliance
Physical Therapy States

(see list below)

Many more!
*States that may recognize this via reciprocity/ easy petition for Physical Therapy CEU credit include: Alabama, Alaska, Arizona, Colorado, Connecticut, Delaware, Georgia, Hawaii, Idaho, Indiana, Iowa, Kansas, Kentucky, Massachusetts, Michigan, Mississippi, Missouri, Montana, Nebraska, New Hampshire, North Carolina, North Dakota, Oregon, Pennsylvania, Rhode Island, South Carolina, South Dakota, Utah, Vermont, Virginia, Washington, Wisconsin, Wyoming. (Please check your state practice act to confirm. Or email in and we can help you check.)
Contact: [email protected] if you have any questions
How many credit hours is the course?
34 hours of home study course material
How do I gain my certificate and credit for this course?
Watch all the lectures and pass the quiz at the end of each of the 9 sections with a 75% or better passing score and complete the course survey at the end.
Will the course material help women that are 5-20 years postpartum?
Yes! This course focuses on correcting dysfunctional movement patterns caused by pregnancy. That doesn't matter if the woman is 6months or 16 years postpartum. The approach will still work!
What if I can't start on the date listed by each lesson?
No need to worry! This course is self-paced, so you can start and stop as needed. You'll have lifetime access to the course so you can review the material as much as needed. You will, however, need to submit your quiz within one year of starting.
How long will I have access to the course?
No need to worry! This course is self-paced, so you can start and stop as needed. You'll have lifetime access to the course so you can review the material as much as needed. You will, however, need to submit your quiz within one year of starting.
What if I don't pass the quiz?
No need to stress! You'll get a copy of the quiz at the start of the course so you can keep the questions in mind as you go through it. Then you'll have 3 attempts for a passing score of at least 75%. If it's just not working for you after that, we can talk about tutoring. The main goal is for you to understand this information to apply it, not stress over a test.
What if I'm not in a health or wellness field but want to learn?
I'm all for learning, but this course is really geared toward instructors. We talk about advanced concepts. One of the online courses for non-wellness professions might be a better fit.
Can I download the course?
The course is video-based and on a streaming platform that doesn't allow for video download. You can, however, download all the research studies for each week and reference the PCES Workbook delivered to your door. You will have lifetime access, so feel free to come back and review any videos you need at any time.
When can I expect my book?
The workbooks are mailed out at course closing. Depending on your location in the world it will take between 1-4 weeks for your book to arrive. The course is completely standalone without the workbook, so please feel free to get started on the videos right away!
Yes! Monthly payment plans are available for your convenience.
What if the course is not a good fit for me?
We think you'll be so blown away by the material that won't be an issue, but if it's not a fit, it's not a fit. We'll happily give you a full refund within the first 30 days. We stand behind this course as being exceptional!
Just return your book in like-new condition (no folded corners or writing in the book) within 30 days for a full refund.
Education Level: No prerequisites needed for this course. It's an introductory level course but detailed enough that even advanced learners will take something new away.
Final thoughts from Dr. Sarah
Helping women fully recover from pregnancy and childbirth became a burning passion of mine after I had trouble fully recovering from pregnancy due to the lack of high-quality advice for women. Even women that are working in the fitness and wellness industry are often ill-prepared to handle the issues that arise for their clients and their own bodies. I finished my doctorate work in 2008 with an emphasis on SI joint pain. The pelvis has always been an area of fascination for me, so I dove deeper into really understanding pelvic floor and diastasis issues postpartum. My research and experience working with women over the years have led me to some pretty interesting, groundbreaking ways of moving the body to promote healing. It's those exercises and movement patterns that I'd like to share with you to help you get faster, better results that women deserve.