Full support for you and the people you help
The Inner Circle offers personal support for PCES graduates and those currently enrolled in the self-study option. Members enjoy a private facebook group where you connect with health and fitness professionals from around the world and troubleshoot with Dr. Sarah and her team of experts.
"I have taken many courses in many fields and none have exceeded my expectations in the way that PCES has. The user-friendly presentation of the theory, the practical analysis in the case studies and the open access to Dr Sarah and her team are all exceptional." - Sarah Preston
Inner Circle Members get:
Live Q and A session once a month

Live exercise workouts and demos 1-2x per month

Live Q and A with other experts (advice and networking)

Multiple experts in the group to help you

Safe and comfortable place where we can troubleshoot our own issues
Ability to upload videos for form critiques

Business and personal growth
Introductory course to the pelvic floor and diastasis recti for health and fitness professionals
Intro to the Pelvic Floor and Diastasis Recti Essentials is a 5 hour course that will cover the essentials so you can feel confident working with those with pelvic floor dysfunction or diastasis recti. It specifically looks at the pelvic floor and diastasis recti.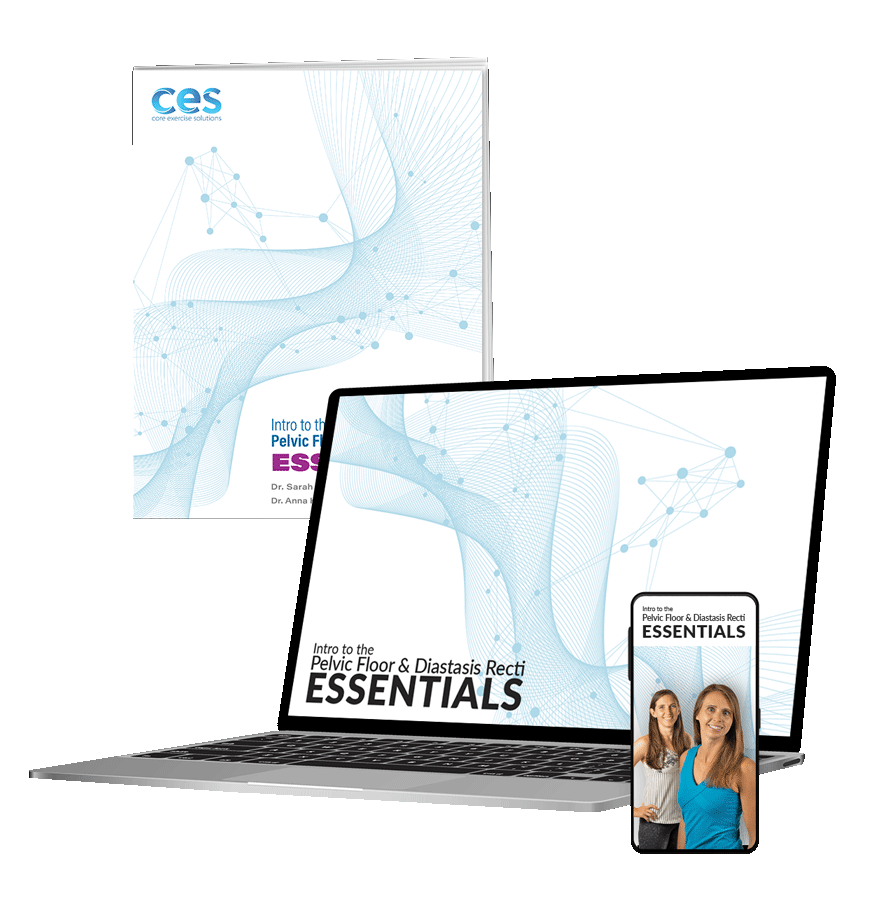 Course designed to improve posture and decrease shoulder tightness, fatigue and pain.
The Shoulder Solution offers professionals a full toolkit of tests, modifications, exercises and understanding for addressing shoulder issues.

The Health and Fitness Business Summit - Conversations with the hardest working women in the industry
Interviews with 24 high-performing women in the industry. Actionable tips and advice to grow your health and fitness business.





Live Call Topics Include:
Piriformis & Deep Hip Rotator Tension

Influencing Pelvic Floor Tone & Tension

Click images to learn more

Dr. Sarah Ellis Duvall, PT, DPT, CPT, CNC, PCES
-
Physical Therapist, Certified Personal Trainer
Dr. Sarah Ellis Duvall, PT, DPT, CPT, CNC, PCES
As a mother of two, Dr. Sarah knows what it takes to fully recover from having a baby and her passion lies in helping women be stronger after baby.
She has rehabbed 1,000s of women with prolapse, leaking, pelvic floor pain and tightness. She also provides cutting-edge education to health and wellness professionals so they can better help women overcome pelvic floor issues.

Annatina Schorno-Pitsch, PT, PCES
-
Orthopedic and Pelvic Floor Physical Therapist
Annatina Schorno-Pitsch, PT, PCES
Annatina experienced how it feels to deal with women's health issues as a mom of 3. This is why she got trained as a Women's Health PT. It is Annatina's passion to prepare women for delivery and to fully recover, to empower women to learn about the force of self-healing, to take care of their body, build strength and move properly in order to heal and feel great.

Dr. Anna Hammond, DPT, OCS, PCES
-
Physical Therapist, Strength/Conditioning Specialist
Dr. Anna Hammond, DPT, OCS, PCES
Anna attended the Medical University of South Carolina in Charleston, South Carolina to obtain her Doctorate of Physical Therapy. While attending MUSC, Anna also became a Certified Strength and Conditioning Specialist. She and a colleague created a "screen and clean" program to help assess those who wanted to begin a gym program, work on injury prevention, or generally feel better physically.

Robin Angus, PT, Cert. MDT, PCES
-
Orthopedic and Women's Health Physical Therapist
Robin Angus , PT, Cert. MDT, PCES
Robin has been in physical therapy practice since 1981, earned several advanced certifications, and served as a teaching assistant for Shirley Sahrmann's continuing education courses. She brings a wealth of knowledge and experience in women's health and orthopedics to the Inner Circle, teaching and mentoring PCES graduates in the application of the theories, exercise progressions, and self-care advice taught in the PCES course.

Paige Dunmore, BS, PTA, PCES
-
Physical Therapist Assistant
Paige Dunmore, BS, PTA, PCES
Paige earned her undergraduate degree in Mass Communication and worked as a radio personality before eventually stumbling upon physical therapy due to a running injury. Not long after, she returned to school full-time to become a Physical Therapist Assistant in 2014, just ahead of the birth of her first child.
Paige has worked in outpatient orthopedics for the last five years, specializing in manual therapy, postpartum exercise rehab, and return-to-running rehab. While she absolutely loved working in the clinic and being hands on, following a very traumatic birth with her second child, she decided to take some time and finally focus on her own rehab so that she could get back to running ultramarathons again!
Staying home with her two toddlers allowed her the time and space to go after her true passion: pregnancy and postpartum rehab. Paige found Sarah's Postpartum Corrective Exercise Specialist certification after experiencing diastasis and prolapse following her second pregnancy. She enrolled in and then graduated from the PCES course in early 2019 and has been practicing what she preaches ever since! Sarah's programs are the real deal and now that she can run, jump, lift, carry, and live life without fear she is determined to help other women achieve the results they are looking for!