Stop Leaks. Reduce Prolapse. Create an Unstoppable Pelvic Floor.
Pelvic Floor Perfect has helped thousands of women create the strength and stability needed to overcome common and not-so-common pelvic floor issues.
Pelvic Floor Perfect is available exclusively through our CES All-Access Membership.
Get started today for $95 USD/month. Join a longer-term membership and save over $20 per month.
Click below to find the best option for you!
The Pelvic Floor Is More Than You Think.
The pelvic floor is the foundation of your body. It creates the strength and stability needed to move pain-free. The pelvic floor also supports the pelvic organs and controls the bowel and bladder to stop leaks.
For many people – for many reasons – it just doesn't perform as it should. The pelvic floor can become weak and/or tight, decreasing its ability to stop leaks and support organs. Tightness, timing, and coordination are all factors in pelvic floor health.
Healing Can Be Easier Than You Think.
There is hope! We can improve pelvic floor function naturally by strengthening the surrounding muscle groups, working on posture, and examining how we breathe. We teach simple, yet effective exercises to balance the body and improve pelvic floor issues.
Doing Kegels can be a great starting point but in some cases, it can actually make issues worse. Proper guidance is important to progress safely and effectively to symptom-free living. Pelvic Floor Perfect takes you through 12 weeks of specialized workouts and education tailored to your symptoms.
Gain Confidence in Your Pelvic Floor.
Laugh, cough, sneeze, run and jump worry free
Go longer between bathroom breaks
Eliminate pelvic floor tightness and pain
Build lasting pelvic floor strength
Learn what makes prolapse worse and how to correct it
Decrease heaviness and pressure on your pelvic floor
Banish low back pain and stabilize your SI Joint for good
Workouts Tailored to Your Needs.
Proven Results. Time and Time Again.
"Up until my pregnancy, I was an athlete. However, I went through a difficult pregnancy and very long/challenging delivery that prevented me from exercising. After delivery, I was at a loss in where to start in getting back into shape dealing with a prolapse and significant diastasis, and not being physically able to train in the way that I had pre-pregnancy. CES helped return me to being able to hike with my 40 lb toddler on my back!
I also looked into many other online programs as I had a baby just before a pandemic. Of the other programs that I explored, some were cookie-cutter, some focused only on aesthetics (and not on functional movements like being able to lift my baby) and some provided harmful misinformation. With CES I had access to qualified experts, an active and very helpful support group, and educational resources to help learn about my body and what strategies worked best for me."
Maggie Morrison
"For ladies considering prolapse surgery, I would just like to say this program is your insurance for success and possibly your way out of the operating room!
I thankfully found CES after my prolapse surgery had failed, convinced I would need a 2nd repair. NO MORE! The pressure management skills and targeted strength you gain with consistent work is like compounding interest in your 401K. The gains just keep adding up for me and I'm blown away with where I'm at physically. Sarah understands this diagnosis like no other medical professional I have come across and I'm so grateful for her program and amazing team!"
Kellye Lloyd
Fully updated in 2021, tailored workouts, online support through our private Facebook group, live calls, and tons of bonus materials.
What do you get with this All-Access Membership:
Stronger After Baby Starter Workouts
Diastasis Fix
Pelvic Floor Perfect Series
Happy Hips + Strong Glutes and Abs
Posture Perfect
Back Pain and SI Joint Fix
Fitness Doctors on Call! Yep, you get access to two Doctors of Physical Therapy, a Pelvic Floor PT, an Exercise Based Neuro Expert, and industry-leading fitness experts to help troubleshoot and modify any exercises as needed.
Printable PDFs of all the Workouts to chart your progress.
Support and accountability in a small group setting.
Loads of Bonus Material: A myofascial release, yoga, plus, a killer nutrition section full of healthy, easy-to-fix recipes.
Pelvic Floor Perfect is available exclusively through the CES All-Access Membership.
Get started today for $95 USD/month. Join a longer-term membership and save over $20 per month.
Click below to find the best option for you!

100% money-back guarantee on the monthly subscription if you are not happy in the first 15 days. Please see each payment option for the different refund policies for the 6 month and one-year membership. Those are visible after selecting the membership option and moving to the next screen. Each membership option will automatically renew until canceled. Cancellation is easy and located under your settings.
Try This Free Pelvic Floor Educational Series
Dr. Sarah Duvall, PT, DPT, CPT and the CES Team have helped thousands of women create the strength and stability needed to overcome common and not-so-common pelvic floor issues.
Join us today for this 4-part Pelvic Floor Video Series, absolutely free.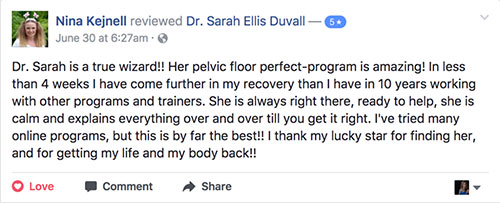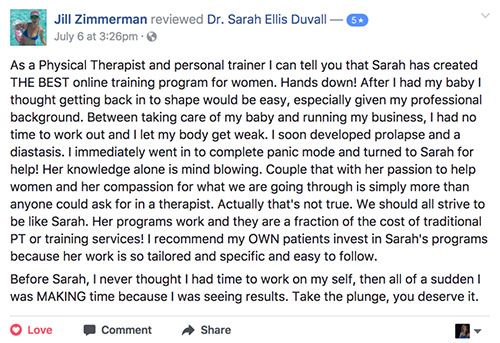 Frequently Asked Questions
How many days a week am I expected to participate in the program over the 12 weeks?
Research shows that it takes exercising at least 3 days per week to make any noticeable change in the body. You can maintain for less, but to move forward you'll really need at least 3. The workouts each week are about 20 minutes long, so they are easy to fit in! 20 minutes is less than one TV show, even streaming.
We find women do the best when they: #1. Make the decision that they are going to do the workouts. #2. Block off the 20 minutes on their calendar so the time is set aside.
We've helped many extremely busy women, from CEOs and Doctors to Moms of 7! When someone decides they are ready for results, it happens.
The program is designed so you can just push play and follow along. You don't have to organize anything. You don't have to figure out your workouts. You just push play! All the workouts are pre-recorded so you can watch them at the time that suits you best. We've made it as easy as possible.
What time are the Live Calls?
There are approximately 10 Live Calls throughout our time in the program together. They are held in our private Facebook group on a variety of days and at a variety of times so we can hit more time zones. If you can't make a call, no worries! You can submit any questions ahead of time and we'll cover them thoroughly on the call. All calls will be recorded so you can watch them later. Honestly, as a busy working mom, this can be my favorite part because I love listening at 2x speed while I do dishes after dinner or get ready for the day.
When do I get access to the program? Does the 12 week support begin immediately after the purchase?
You'll receive immediate access to the program after you've made your purchase. Group support will start the following week. We've learned that when you work through the program with other women at the same time, it really helps provide motivation. It also helps us tackle all those hard topics at the same time for everyone, so we're all learning together. Support lasts for 12 weeks. If you'd like support after those 12 weeks, we have a paid option for continued help.
Is this program just for moms, or would I be a good fit, too?
We have many women in our programs who do not have children. Although having kids is often a contributing factor to pelvic floor issues, it's not the only factor!! Many women find themselves with prolapse, leaking, or other issues without having had children. This is more common than you think! This program will be a great fit for you!
I saw that the Pelvic Floor Perfect program offers free access to the Diastasis Fix program and vice versa. Are the contents of both programs basically the same?
No, they are actually completely different. That's why we are granting access to the different tracks after you finish the Core and Pelvic Floor Foundations. We've found that some women need different exercises than others, and as experts helping, we want to make sure that's available to you. Don't worry, we'll help you sort through what you need!
I'm well past my postpartum years and have had this issue for a long time, is it too late to work on my symptoms?
It's never too late to build strength and improve issues in the body. That's backed by research! Studies show women can even gain muscle into their 90s!!! There is no age limit for this program. The only limiting factor is navigating online. So, if you feel comfortable signing into a program, clicking play on a video and following along, then this program will help.
Is this program designed for professionals?
This program is intended for individuals as a focused workout programs. It's not setup or intended for professional learning. If you'd like to understand more of the thought processes behind the theory as well as the theory and the exercises, please be sure to check out the PCES course for professionals.