Firm the Gap. Balance the Core.
Diastasis Fix has helped thousands of women create the strength and stability needed to overcome common and not-so-common core issues.
Diastasis Fix is available exclusively through our CES All-Access Membership.
Get started today for $95 USD/month. Join a longer-term membership and save over $20 per month.
Click below to find the best option for you!
A diastasis recti is when the front abdominal muscle gaps at the connection point in the middle. The muscle isn't actually going to split apart, but it can produce a sizable space between the two muscle bellies. Basically, it's a thinning or stretching of the connective tissue.
Why Is Diastasis Recti Bad?
Aesthetics aside, this connection helps transfer load through your trunk. When the gap is too wide or too soft in the middle, it becomes an ineffective load transfer point. This can result in back pain, SI joint instability, and other issues in the body.
Coordination Is the Key to Healing
Proper coordination and posture alignment are vital for a healthy, balanced core. Diastasis Fix takes you through 12 weeks of exercises and education designed to heal diastasis and build stability for all of life's activities.
Improve your deep breathing system
Find your ideal posture for midline healing
Learn to load your core correctly
Improve your strength and flexibility
Optimize your pelvic alignment to improve core activation and back pain
Workouts Tailored to Your Needs.
"I was at an all-time low with my health when I searched out a core program, and Sarah's was the one that stood out to me as worth investing in. I had a hernia that developed after an abdominal surgery and it wasn't a good candidate for surgical intervention. I dove into Sarah's exercises headfirst and haven't looked back. My core is getting stronger and stronger by the week and I no longer am even considering surgery."
Gina Paulhus
CPT, Home Bodies in-home fitness training and supplements LLC
"Sarah's program has completely changed me and I am so grateful every day to her and the amazing women on the CES team. My diastasis is completely healed. I feel like I finally have answers to questions I've had for years, and now know how to move my body thanks to the safe, effective rehab and exercise programs. I'm in the best shape ever - stronger and more confident, both physically and mentally!"
Mageda Merbouh
You'll receive the Diastasis Fix Online program - Fully updated in 2021, tailored workouts, online support through our private Facebook group, live calls, and tons of bonus materials.
What do you get with this All-Access Membership:
Stronger After Baby Starter Workouts
Diastasis Fix
Pelvic Floor Perfect Series
Happy Hips + Strong Glutes and Abs
Posture Perfect
Back Pain and SI Joint Fix
Fitness Doctors on Call! Yep, you get access to two Doctors of Physical Therapy, a Pelvic Floor PT, an Exercise Based Neuro Expert and industry-leading fitness experts to help troubleshoot, and modify any exercises as needed.
Printable PDFs of all the Workouts to chart your progress.
Support and accountability in a small group setting.
Loads of Bonus Material: A myofascial release, yoga, plus, a killer nutrition section full of healthy, easy-to-fix recipes.
Diastasis Fix is available exclusively through the CES All-Access Membership.
Get started today for $95 USD/month. Join a longer-term membership and save over $20 per month.
Click below to find the best option for you!

100% money-back guarantee on the monthly subscription if you are not happy in the first 15 days. Please see each payment option for the different refund policies for the 6 month and one-year membership. Those are visible after selecting the membership option and moving to the next screen. Each membership option will automatically renew until canceled. Cancellation is easy and located under your settings.
Try This Free Diastasis Recti Educational Series
Dr. Sarah Duvall, PT, DPT, CPT, and the CES Team have helped thousands of women create the strength and stability needed to overcome diastasis recti and build core strength.
Join us today for this 4-part Diastasis Recti Video Series, absolutely free.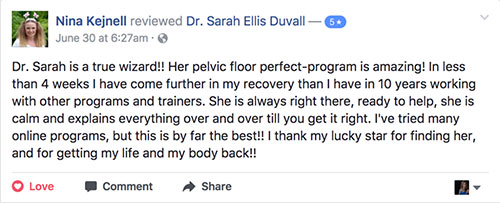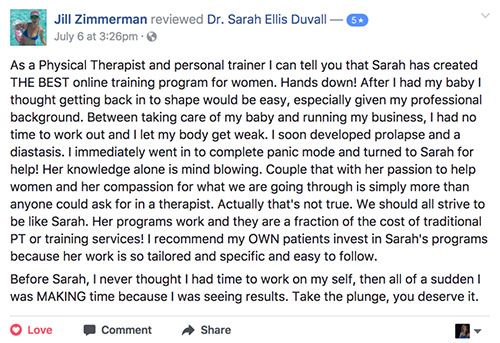 How to check the depth of your diastasis
Watch the video below to find out step by step how to measure yourself and know if you are getting better.
What Group Support Looks Like
Shared with permission from the person in the video. The group is secret and no one outside the group can see posts. It's a safe place for all the TMI!
Common TMI topics include everything from peeing, sex, body image struggles, bathroom habits, abdominal questions to much, much more. Seriously, there is NO TMI!


Frequently Asked Questions
How many days a week am I expected to participate in the program over the 12 weeks?
Research shows that it takes exercising at least 3 days per week to make any noticeable change in the body. You can maintain for less, but to move forward you'll really need at least 3. The workouts each week are about 20 minutes long, so they are easy to fit in! 20 minutes is less than one TV show, even streaming.
We find women do the best when they: #1. Make the decision that they are going to do the workouts. #2. Block off the 20 minutes on their calendar so the time is set aside.
We've helped many extremely busy women, from CEOs and Doctors to Moms of 7! When someone decides they are ready for results, it happens.
The program is designed so you can just push play and follow along. You don't have to organize anything. You don't have to figure out your workouts. You just push play! All the workouts are pre-recorded so you can watch them at the time that suits you best. We've made it as easy as possible.
What time are the Live Calls?
There are approximately 10 Live Calls throughout our time in the program together. They are held in our private Facebook group on a variety of days and at a variety of times so we can hit more time zones. If you can't make a call, no worries! You can submit any questions ahead of time and we'll cover them thoroughly on the call. All calls will be recorded so you can watch them later. Honestly, as a busy working mom, this can be my favorite part because I love listening at 2x speed while I do dishes after dinner or get ready for the day.
When do I get access to the program? Does the 12 week support begin immediately after the purchase?
You'll receive immediate access to the program after you've made your purchase. Group support will start the following week. We've learned that when you work through the program with other women at the same time, it really helps provide motivation. It also helps us tackle all those hard topics at the same time for everyone, so we're all learning together. Support lasts for 12 weeks. If you'd like support after those 12 weeks, we have a paid option for continued help.
Is this program just for moms, or would I be a good fit, too?
We have many women in our programs who do not have children. Although having kids is often a contributing factor to pelvic floor issues, it's not the only factor!! Many women find themselves with prolapse, leaking, or other issues without having had children. This is more common than you think! This program will be a great fit for you!
I saw that the Pelvic Floor Perfect program offers free access to the Diastasis Fix program and vice versa. Are the contents of both programs basically the same?
No, they are actually completely different. That's why we are granting access to the different tracks after you finish the Core and Pelvic Floor Foundations. We've found that some women need different exercises than others, and as experts helping, we want to make sure that's available to you. Don't worry, we'll help you sort through what you need!
I'm well past my postpartum years and have had this issue for a long time, is it too late to work on my symptoms?
It's never too late to build strength and improve issues in the body. That's backed by research! Studies show women can even gain muscle into their 90s!!! There is no age limit for this program. The only limiting factor is navigating online. So, if you feel comfortable signing into a program, clicking play on a video and following along, then this program will help.
Is this program designed for professionals?
This program is intended for individuals as a focused workout programs. It's not setup or intended for professional learning. If you'd like to understand more of the thought processes behind the theory as well as the theory and the exercises, please be sure to check out the PCES course for professionals.